Model ship riverboats were jacks of all trades. They served as the lifeline for cotton and inland trade, towed barges and ferried railroad trains across the river. As passenger boats, they helped to shrink the vastness of America, and as showboats, they made that vastness a little less lonely.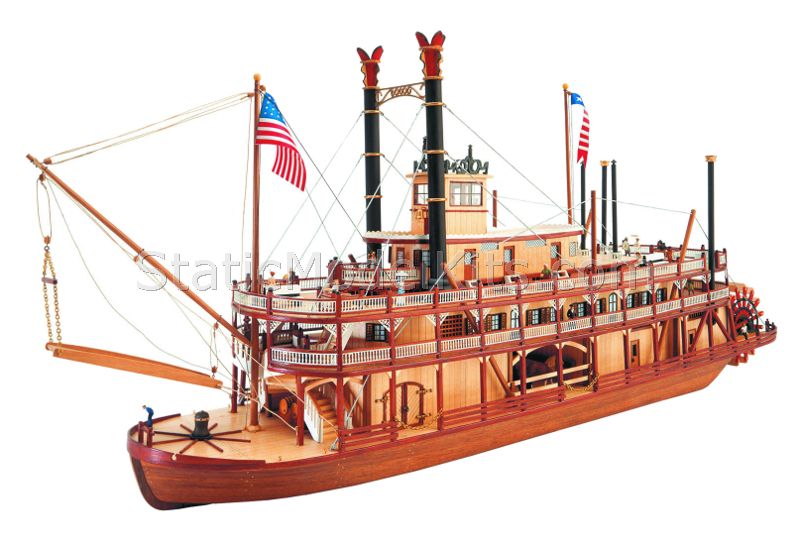 Mississippi ship model kit retail package
Ship model kit Mississippi features the following
This intermediate kit would be suitable for anyone who has previous model building experience.
Artesania Latina has improved this popular plank-on-bulkhead kit for easier assembly. Molded wooden pieces are now included for the bow and stern sections, so you can shape them with accuracy. Pre-cut ribs and hardwood parts are included for hull, deck and super-structure construction. Fittings include brass decorations, ship's bell, steering wheel, handrails and chain. Windows, doors, chimney heads and paddle wheels are cast metal. Galvanized wire, brass cables and cotton rigging are all provided along with brass pin nails. Illustrated instruction book makes building easy.
NOTE: This is a new improved version of Artesania Latina's kit. The model varies a little from the photograph. For example, there is one walkway at the bow instead of two. This is a more detailed model than the one pictured. We are sure you will be happy with it. 
Ship model details
You can browse all available photographs by clicking on the model picture at the top of the page.