The construction of this ship, based on plans and regulations established by José Antonio de Gaztaneta, took place in the Port of Cavite, in the Philippines, along with that of Nuestra. Sra. de Covadonga. Work began in 1731 and she was finally launched two years later in 1733. She had two bridges and a displacement of 1,000 tons, was fitted with 50 cannon as well as 10 swivel guns, mounted on quarter deck and forecastle. For twenty years she plied the route from Mexico to Manila and in 1750 underwent a complete refit in the Port of Cavite. In 1750, on her last voyage, she set sail from Manila bound for Acapulco. Despite being overloaded, and contrary to the opinion of both pilots and Master, her Captain insisted on weighing anchor at the beginning of September. En route for the Mariana Islands, in the Pacific, they began to have difficulties, after sailing into a heavy storm, and she sank taking all of her crew down with her.
Nuestra S. del Pilar ship model kit retail package
Ship model kit Nuestra S. del Pilar features the following
This advanced kit is suitable for ship kit builders who previously built two or more models of a similar style. The plan was drawn from the French period books. Standard plank on frame hull construction, utilize walnut, maple and lime wood. Figure head, caryatids, angels & other ornamentations in cast or pressed brass, sails. All dead eyes, blocks, etc. are in walnut. Flags printed on silk, standing & running in black & natural rope. All lanterns, cannon, anchors, hinge & strops made in metal. Fully detailed building plans with English instructions.
Ship model details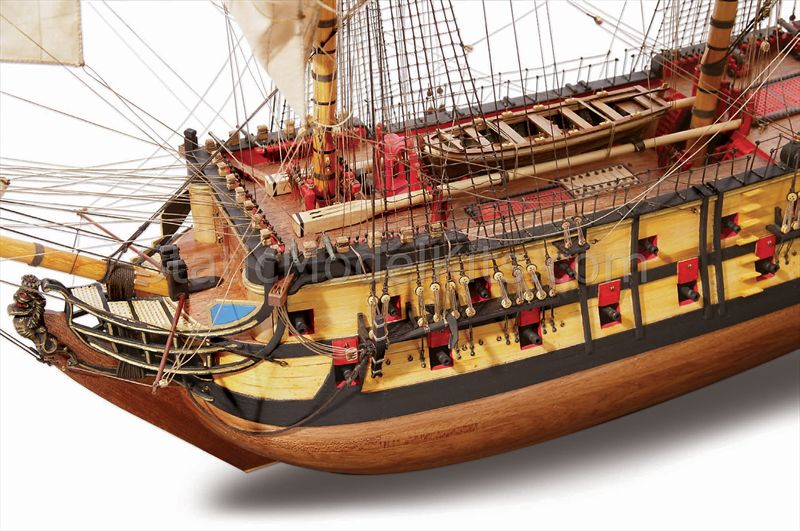 You can browse all available photographs by clicking on the model picture at the top of the page.