The Battle of Trafalgar (21 October 1805) was a naval engagement fought by the British Royal Navy against the combined fleets of the French Navy and Spanish Navy, during the War of the Third Coalition of the Napoleonic Wars. The battle was the most decisive British naval victory of the war. Twenty-seven British ships of the line led by Admiral Lord Nelson aboard HMS Victory defeated thirty-three French and Spanish ships of the line under French Admiral Pierre-Charles Villeneuve off the south-west coast of Spain, just west of Cape Trafalgar. The Franco-Spanish fleet lost twenty-two ships, without a single British vessel being lost.
Victory ship model kit retail package
Ship model kit Victory features the following
This advanced kit is suitable for ship kit builders who previously built two or more models of a similar style.
A double plank on frame hull construction, building plans with general details, English instructions booklet, lost wax brass castings walnut or lime planking, wooden masts and spars, brass and walnut fittings, laser engraved details, copper hull plating, rigging cord and silk flag. All sheet ply sections are laser cut for accuracy.
This model differs from the Sergal version in that it includes the Ships boat set and the copper tile hull plating.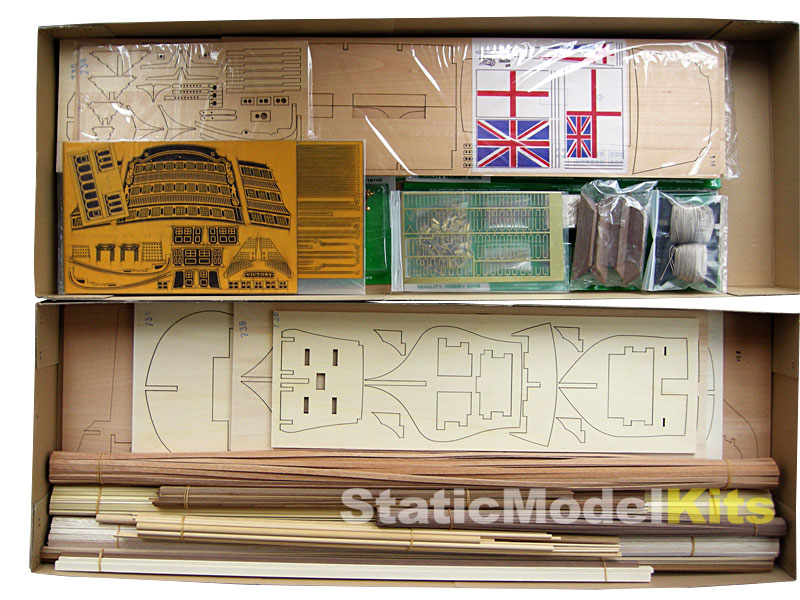 You can browse all available photographs by clicking on the model picture at the top of the page.